Latincouver's COVID-19 Statement for Carnaval del Sol 2020
Rumba al Carnaval del Sol: Are you ready to #ShineTogether?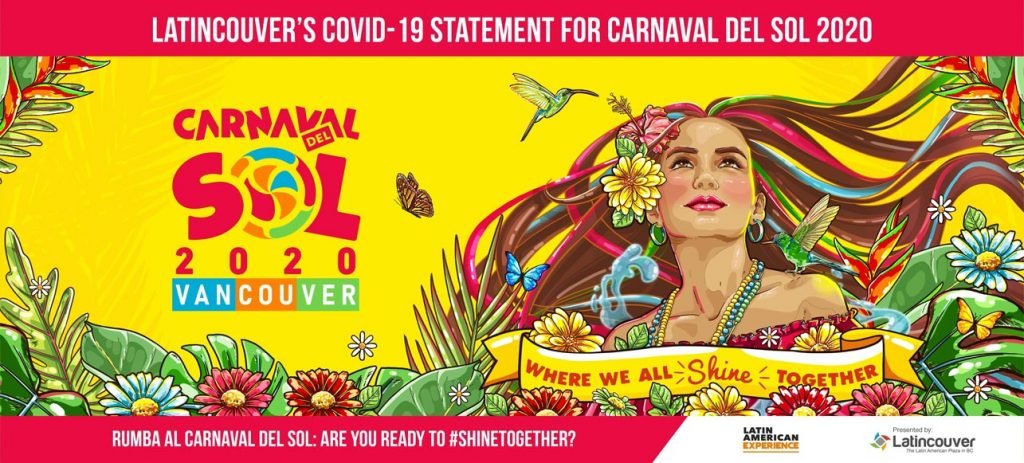 Carnaval del Sol has become the largest celebration of Latin American culture in the Pacific Northwest during the last 11 years of growth, transformation and reinvention. This year represents a new challenge that demands all of our creativity, our strengths and the power of our amazing community.
Our team is monitoring the COVID-19 situation closely; we are committed to the health and safety of our attendees, volunteers, staff, artists and exhibitors, and we will follow the guidance of the federal and provincial governments as this issue progresses. 
Since the 12th edition of Carnaval Del Sol is still four months away, the date range of this policy does not affect the festival at this time, so we are optimistic that everything will proceed as intended. 
Latincouver
's office is closed, and the Carnaval Del Sol team will keep working from home until further notice to ensure the safety of our staff and our community. You can still reach us by email at:
plaza@latincouver.ca
.
Carnaval del Sol is about bringing our community together; so we have come up with a series of online activities such as live concerts and parties with artists from Latin America and Canada, dancing classes, cooking shows, virtual webinars about different topics from the comfort of your home. We're calling this series of activities:
Rumba al Carnaval del Sol, which is a wordplay between rumbo, Spanish for course or path, and rumba, a Spanish slang for party. So we will celebrate our path to Carnaval del Sol turning our rumbo into an online rumba! Our job is to keep the positive spirit of our community and bring a new opportunity for all of us to keep shining together online or offline. 
By purchasing tickets for these online events at
www.carnavaldelsol.ca
you will support the artists, our organization and the work of different organizations throughout Latin America during the COVID-19 crisis. 
Our upcoming activities will continue as scheduled in an online format.  
The Carnaval Del Sol team is looking forward to putting on an incredible event for you all. To be able to continue our operations to bring Carnaval del Sol in the future, we need your support. 
Donations are open to help our organization stay alive and keep bringing upbeat Latin American music, food and heritage to British Columbia.
DONATE NOW
!
Thank you for your continued support. We will keep updating our community with any new information regarding COVID-19 and its impact in BC through our social media channels and website (
check out all the official communications
in Spanish, English and some in Portuguese).
Take care of each other and keep in mind we will #ShineTogether again now more than ever!